Is it hard to be a responsible human while travelling? The answer is NO. In fact, in my humble opinion, being responsible is a necessary skill that every traveller should learn in their journey.
For some of us, the sense of being responsible is a part of our nature. I applaud those who are capable of being responsible not only towards themselves but also towards the people around them, the environment, and culture. With just a little bit more sense of responsibility, we can make everyone's experience a beautiful and mesmerizing one.
So, what is a responsible traveller supposed to be like? It is rather simple. In 2002, the term responsible tourism was defined in Cape Town by the Cape Town Declaration. Additionally, the World Travel Market has adopted its definition in 2007 for World Responsible Tourism Day.
Exerted from a report by Responsible Tourism Partnership:
Responsible Tourism is about "making better places for people to live in and better places for people to visit." Responsible Tourism requires that operators, hoteliers, governments, local people and tourists take responsibility, take action to make tourism more sustainable.
From this excerpt, we can conclude that being a responsible traveller is to help make the destinations we go to better for locals to live in and for other other travellers to visit. Here are 5 steps to be a responsible traveller:
#1 Learn about the local culture
A beach is just a beach, a mountain is just another peak, and a forest will always be just another forest. That is, if without the knowledge of the local culture and history.
So, the first step before you travel is to always do your homework about your destination.
I understand that sometimes we just want to buy a random ticket and be surprised with all the possibilities that a new place can provide us. The unknown can indeed be exciting for some of us.
However, to what cost? To the point that you might disrespect another person and their culture?
To avoid disrespecting another's culture, you can always do some simple read up online. Read up on the do's and dont's. Read up on the laws that the country have. Read up on their history to understand why is their culture the way it is. At the very least, have a basic idea of how the country you are visiting is like and not blindly assume that it would be the same as your home country.
Remember that it is the difference in culture that usually excites or blow our minds while making our journey special.
P/s: Check out Responsible Travel for more information and responsible travel guides to learn more.
#2 Respecting the local laws and regulations
Don't do any illegal activities that you won't do in your home country. If it is illegal in the place that you are visiting, don't do it either. For example, drugs and prostitution are illegal in every country in Asia unlike in Netherlands, Australia, New Zealand, and some parts of America.
Avoid getting involved in such illegal activities regardless of how accessible it is and corrupted the country is. You will never know when you will get caught. Most countries in Asia delivers a lifetime imprisonment sentence while some still have the death sentence in their legal system.
Another example that can be found in recent events is where two American tourists showing their bare bottoms at a temple in Bangkok, Thailand. It may have been funny for them and their friends to laugh about but, they were caught while doing the act.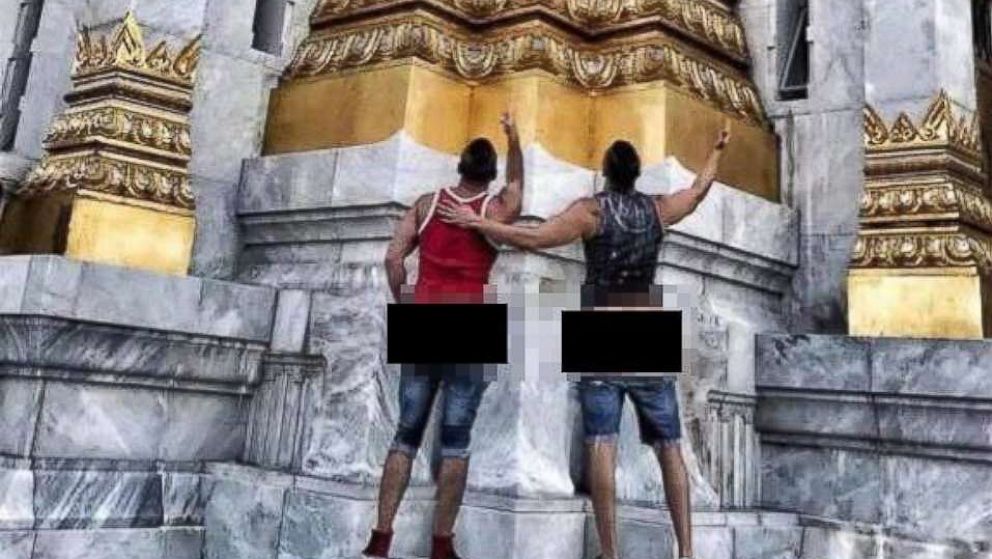 Was it worth getting sent to jail for a stupid joke? I don't think so. Jail is a very harsh place to be in — especially when local prisoners find out that you have disrespected their culture.
We can all do without any unnecessary drama. Your family and country will be better off not having someone who would disgraced them too. Again, have fun but not to the expense of breaking the law and culture norms.
#3 Travel in a sustainable way
The easiest way to get to a country far away from where we are is by international flights. For every flight we take, we contribute in CO2 emissions to the world. Sadly, there is no cleaner alternative to aviation fuel and this makes tourism barely sustainable environmentally. However, there 10% of the world's population — including many developing countries, like Thailand, Vietnam, Laos and Cambodia, depend on  tourism to grow their economy.
The most important thing in travelling in a sustainable way is the mindset that we have and how we behave. It is important to admit that taking flights is not a sustainable way.
Arguably, carbon offsets may help with the CO2 emissions by the flights we take. Whether it is a solution or not, we should all do a part in carbon offsetting. Walking to attractions or your next stop instead of taking an Uber when it is just 30 minutes walk away is one good example. In fact, walking allows you to see the place you are visiting more than looking through a window.
If walking is not your thing, it is best to share your transportation with others or take the public transportation that is available to you. Be conscious with how you travel and the carbon footprints that you leave behind.
#4 Apply the golden rule
The biblical rule of "do unto others as you would have them do unto you" (Matt. 7:12), do not lie. Just like all the rules that are stated here, we would want others to do the same when they travel to our homeland. Thus, we should lead by example.
If you want to be respected, respect others.
If you want to be love, love others.
If you want to enjoy your time travelling, let others enjoy their time too.
If you want to have a great experience, makes the experience great for others around you too.
By simply putting yourself in another's shoes, you will be able to help everyone's lives to be better.
#5 Be grateful for the experience
Yeah, sure, we are definitely helping others just by visiting their country. Travellers can indeed be a good boost to the economy especially for countries who strive from the tourism sector. However, bear in mind, that you are also gaining from spending your money.
As travellers, we gain from learning and broadening our horizons. The experience we gain can sometimes be what money cannot buy. Thus, we shall always be grateful and thankful for what we have gained each time we travelled.
A personal experience I have had was the joy of speaking to locals young and old while travelling in Myanmar. My joy derived from the fact that I did not blindly follow what the media has reported on how the locals are in Myanmar. Many reports have stated that locals in Myanmar supports its regime in its ethnic cleansing. However, it was far from the truth when I tried speaking to locals. Although most locals were too scared to speak out about the regime's claims, the ones who I have interacted with, mainly came up with one similar answer:
The people of Myanmar, are peaceful people and do not believe in violence. Buddhism has never taught us to kill one another even if they are not the same as us.
This might be something that I have derived from my own experience and interpretation of what I have heard from locals. Without this personal experience, I might have been fooled by media reports on believing that Myanma (people of Myanmar) are violent. Also, through my journey in Myanmar, I came to understand that locals are the ones who suffer the most when travellers boycott visiting Myanmar. I fully disagree with what the regime is doing to the minorities in Myanmar, but I refuse to boycott travelling to Myanmar to make the rest of the powerless people suffer.
(Disclaimer: To each its own. You may not want to travel to Myanmar even after reading this and there is no exact right or wrong about this matter. It is best to decide with your heart and conscious. However, if you are interested, here is an article about my 3 weeks travel to Myanmar.)
The importance to be grateful is also to expand our very own depth in the happiness of travelling. A bright smile and a simple 'thank you' can make someone's day better. Besides, it is said that gratitude is the key to a happy life.
Leave the excitement at where it does not make others resent us, travellers. Let the locals welcome us with open arms and we can all enjoy a more beautiful world.